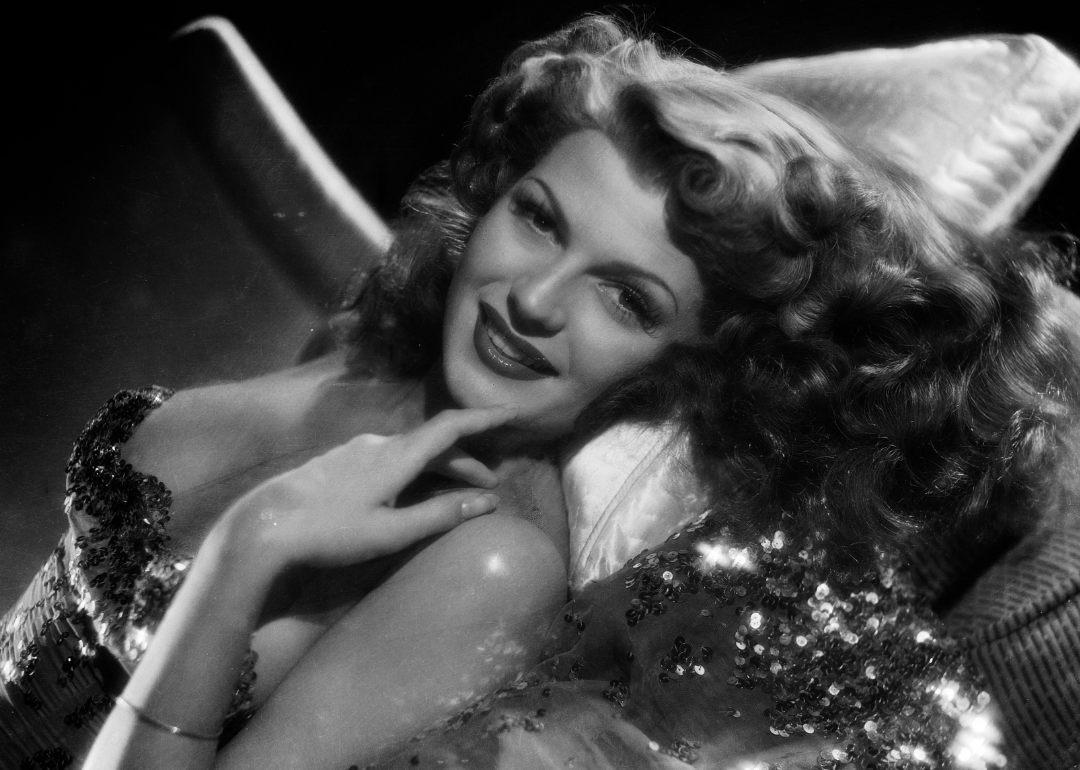 George Hurrell/John Kobal Foundation // Getty Images
Rita Hayworth was more than just a Hollywood bombshell who could seductively remove a glove like no other. The Spanish American actor had staunch political beliefs and fought for her independence in an industry where men consistently controlled her—from her father to her manager-turned-husband who was twice her age.
Born into a family of performers, Hayworth's dancing prowess and enigmatic stage presence became her tickets to Hollywood even before she reached adulthood. Hayworth would play many dichotomic parts throughout her life—challenging the stereotypical confines of ethnicity in Hollywood, juggling the responsibilities of being a princess and a successful actor, and forever trying to strike a balance between her persona as a sexy siren and her longing for quieter family life.
But Hayworth's life behind the bright lights of fame was difficult. She overcame an abusive childhood, domineering husbands and managers, and battled early onset Alzheimer's disease before the disorder was well-known and more easily diagnosed. Decades after she died in 1987, her memory is still vibrant in pop culture and Alzheimer's research.
To celebrate the woman who was so much more than the Love Goddess, Stacker compiled a list of moments in Rita Hayworth's life you may not know about, drawing from news accounts, biographies, magazine interviews, and movie databases.
1918: Born to dance
Hulton Archive // Getty Images
Before becoming Hollywood icon Rita Hayworth, she was Margarita Carmen Cansino—born in Brooklyn, New York, on Oct. 17, 1918, a year after her parents married.
Her father, a dancer named Eduardo Cansino, hoped she would follow in the footsteps of him and his father, Antonio Cansino. Antonio, a Spanish-born dancer, put bolero on the map at his world-famous dance schools in his home country in the late 1800s. Her Irish American mother, Volga Hayworth, a former Ziegfeld Follies showgirl, had hoped she would become an actor. Their daughter was poised to do it all.
1923: Her Broadway debut
Bettmann // Getty Images
Hayworth's grandfather started giving her dance lessons at just 3 years old. She would later say rehearsing was the sole focus of her childhood, much to her chagrin, but she continued practicing because she was too afraid to tell her demanding father she didn't like it.
Less than two years after her first lesson, just before her fifth birthday, Hayworth was featured with her relatives in the Broadway production of "The Greenwich Village Follies."
1927: Going West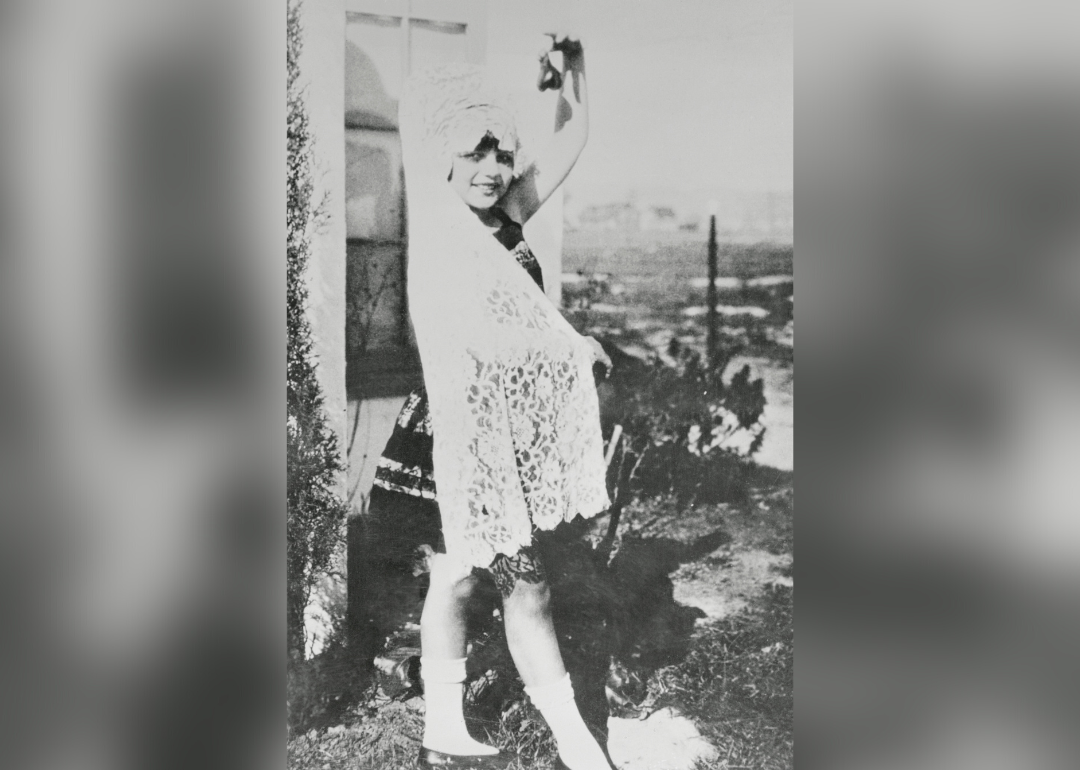 Bettmann // Getty Images
At 8 years old, Hayworth had her first taste of the movies, appearing in the 1926 Warner Bros. short film "La Fiesta." The following year, her family moved to California, where her father opened a dance studio, teaching legends like James Cagney and Jean Harlow.
1931: A dark turn in her relationship with her father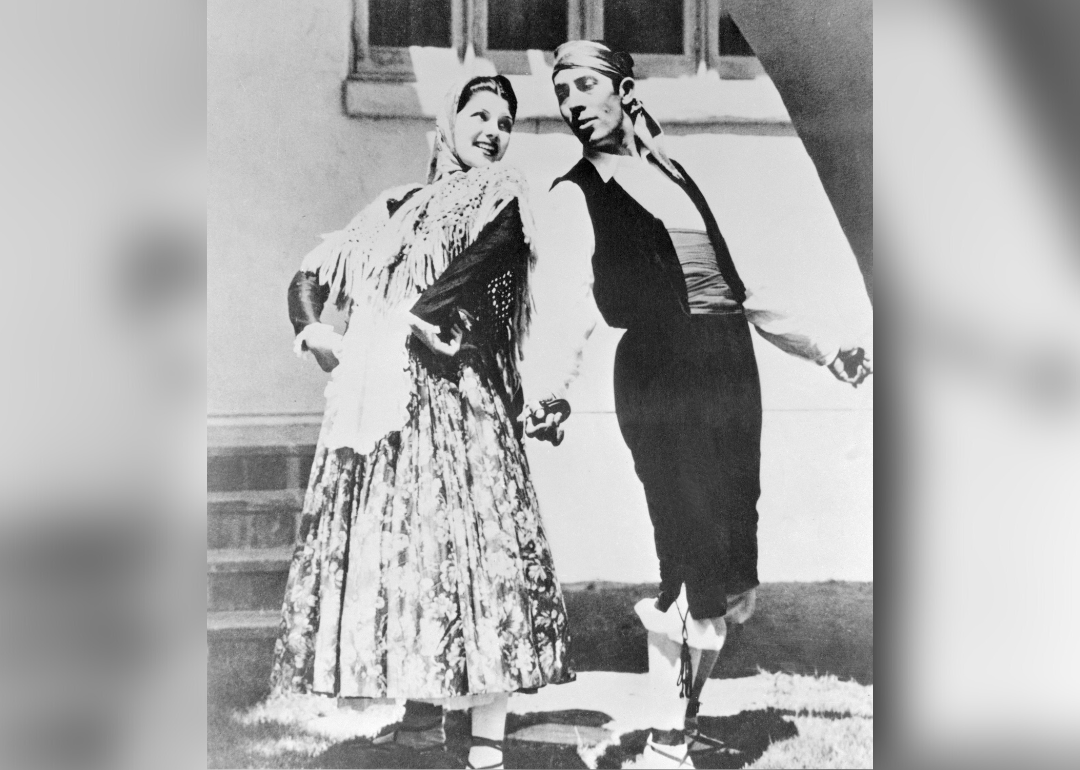 Bettmann // Getty Images
Hayworth was 13 when her father decided to revive the family vaudeville act, the Dancing Cansinos. He pulled his daughter out of school and took her on the road; she eventually completed the ninth grade in Los Angeles, but that was her last year of formal education.
In their act, Eduardo Cansino took his teen daughter on as a dance partner and attempted to age her—changing her stage name to Rita Cansino and dying her brown hair black to make her look older. On the road, he reportedly began sexually abusing Rita, as biographer Barbara Leaming wrote in her 1989 book "If This Was Happiness: A Biography of Rita Hayworth." (Orson Welles, Rita's future second husband, told Leaming of the alleged abuse in interviews for the book.)
1935: Her Fox film debut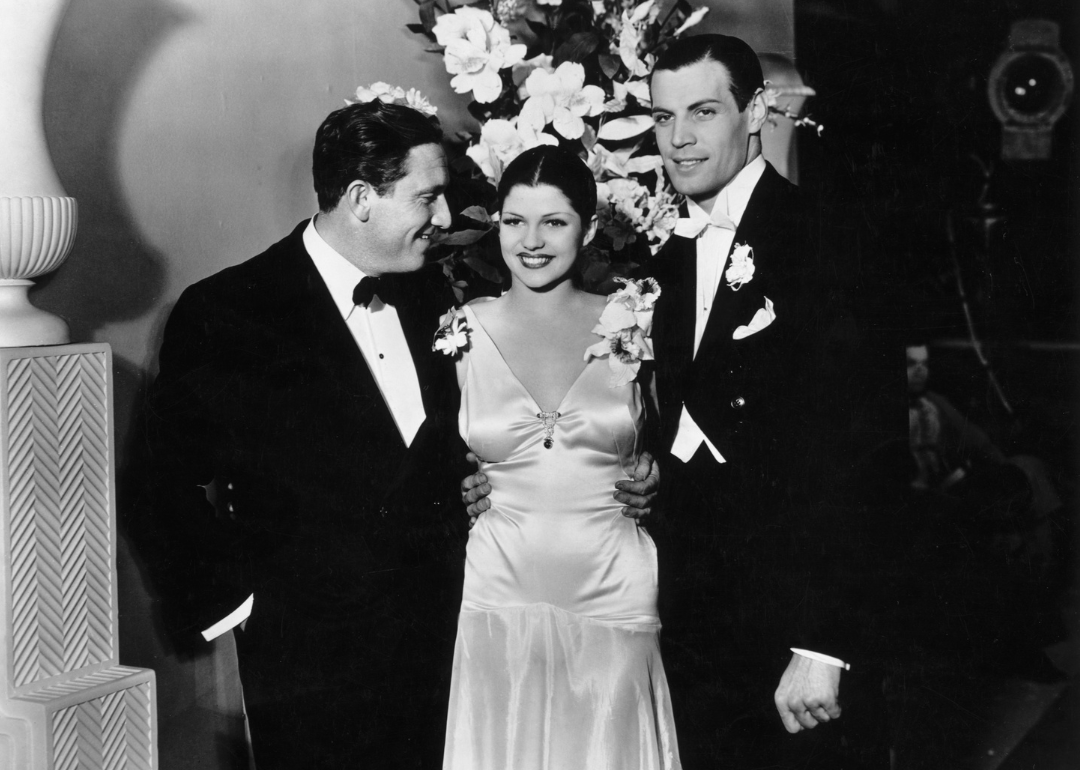 Bettmann // Getty Images
After a few years of performing with her father, the head of the Fox Film Corporation spotted Hayworth and asked her to do a screen test at age 16, which landed her a six-month contract. Her first film for Fox was 1935's "Dante's Inferno," starring Spencer Tracy; she played a dance hall girl and had no lines. But that same year, she was featured in many speaking roles, all representing different ethnicities. She played an Argentinian in "Under the Pampas Moon," an Egyptian in "Charlie Chan in Egypt," and a Russian in "Paddy O'Day." When her contract ended, Fox became 20th Century Fox in a merger, and they didn't renew her deal.
1937: Her first marriage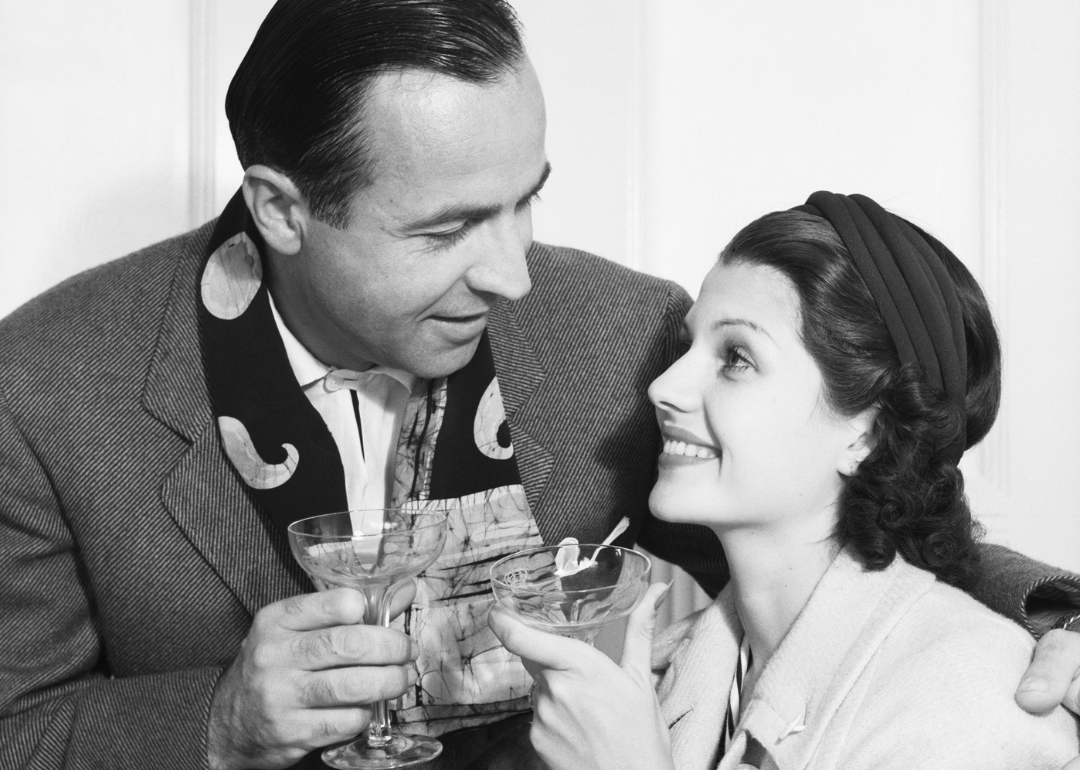 Bettmann // Getty Images
Disappointed with her short-lived contract, Eduardo Cansino hired car salesman and promoter Edward Judson to manage his daughter's career. But he got more than he bargained for with Judson. He helped get Hayworth several roles in small studio films in 1936, and then, despite Judson being 40 and Hayworth being 18, the two eloped in Las Vegas in 1937.
1937: Rita Cansino becomes Rita Hayworth
Bettmann // Getty Images
Under Edward Judson's management, Hayworth signed a seven-year contract with Columbia Pictures executive Harry Cohn, but it would come at a huge cost. Cohn was alleged to have expected and even demanded sex from women actors in exchange for roles, but when Hayworth refused his advances, it spurred a decadeslong feud.
Together, Judson and Cohn were responsible for altering Hayworth's appearance to look more "American"—replacing her father's last name with her mother's, changing her raven hair to auburn, and pushing back her hairline with painful electrolysis treatments.
1941: The pinup shot seen 'round the world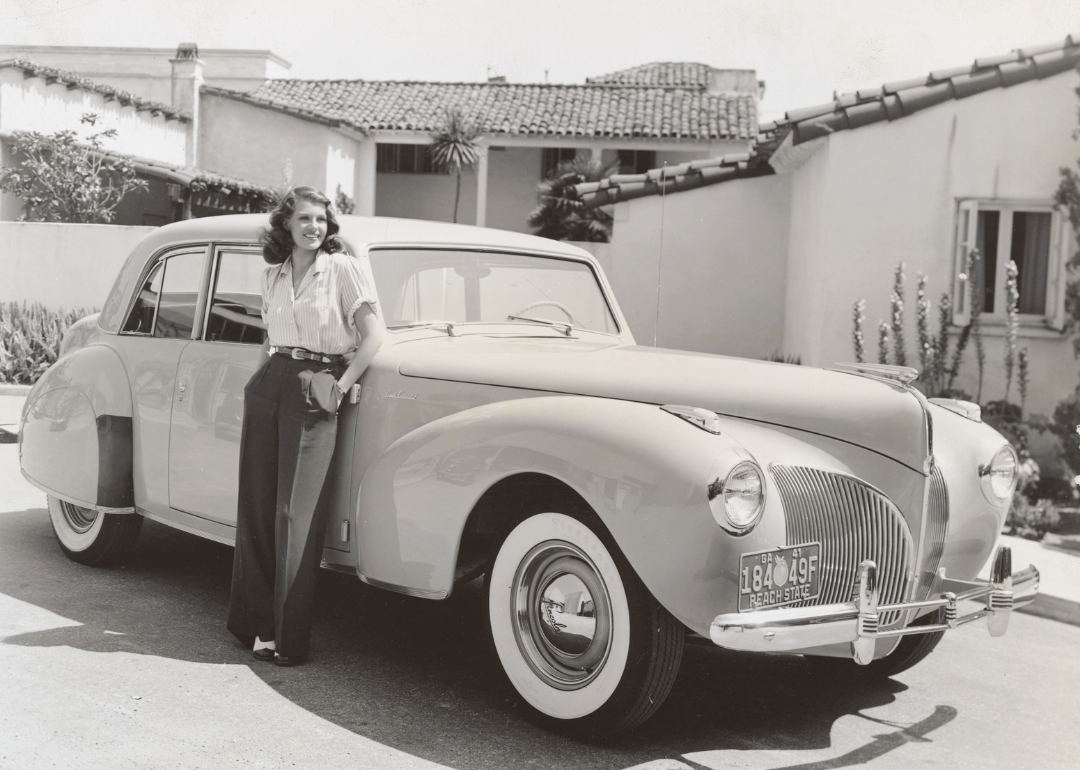 George Rinhart/Corbis via Getty Images
Doors began to open more widely for Hayworth after her makeover in the late 1930s, but it wasn't until 1941 that her star reached atmospheric levels. She took on leading roles in major films like the period musical "The Strawberry Blonde" opposite James Cagney and the 1941 melodrama remake "Blood and Sand," produced in Technicolor, allowing Hayworth to show off her new bright red hair. She also starred in "You'll Never Get Rich," sharing the dance floor with Fred Astaire.
That same year, Life magazine published a publicity photograph of 23-year-old Hayworth kneeling on a bed in a negligee that would become the most reproduced pinup photograph ever.
1942: The end of her first marriage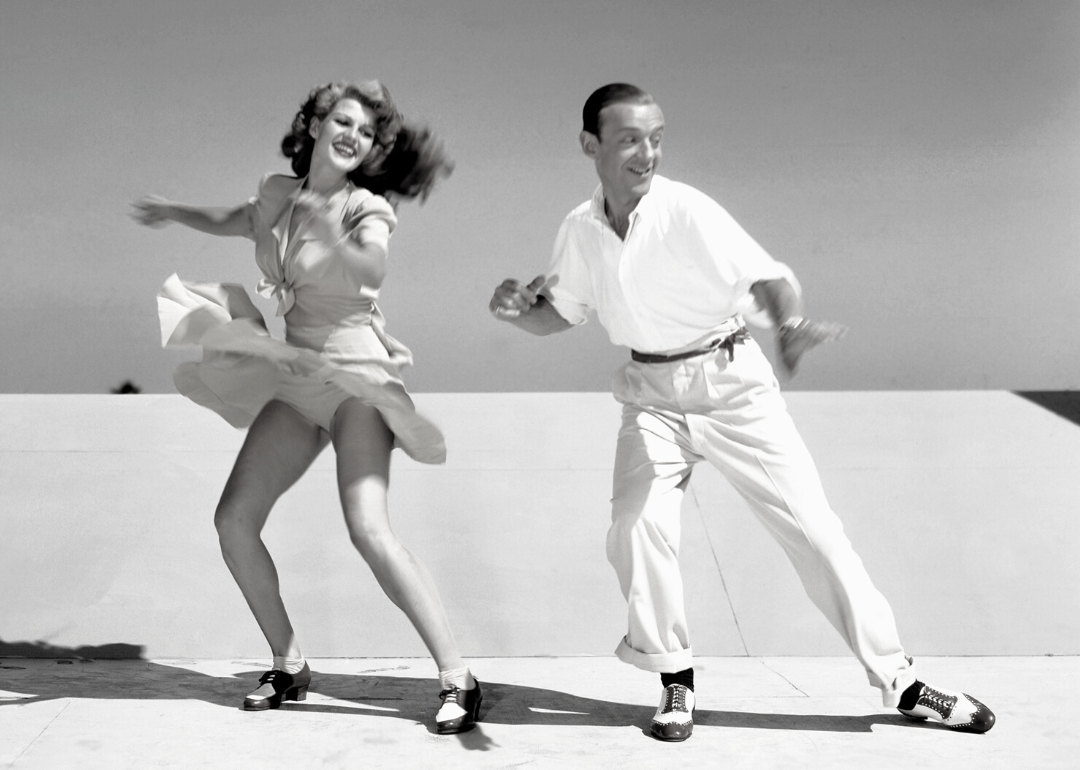 Earl Theisen // Getty Images
Fred Astaire and Hayworth, who he called his favorite dance partner, would work together again in quick succession in 1942's "You Were Never Lovelier." At the same time, Hayworth's personal life was anything but lovely.
The Los Angeles Times reported that she said Judson "helped himself to my money," threatening to disfigure her if she left him. Ultimately, she filed for divorce in 1942 with the support of actor Victor Mature, her costar in the musical "My Gal Sal," to whom she was romantically linked.
1943: Marrying Orson Welles mid-filming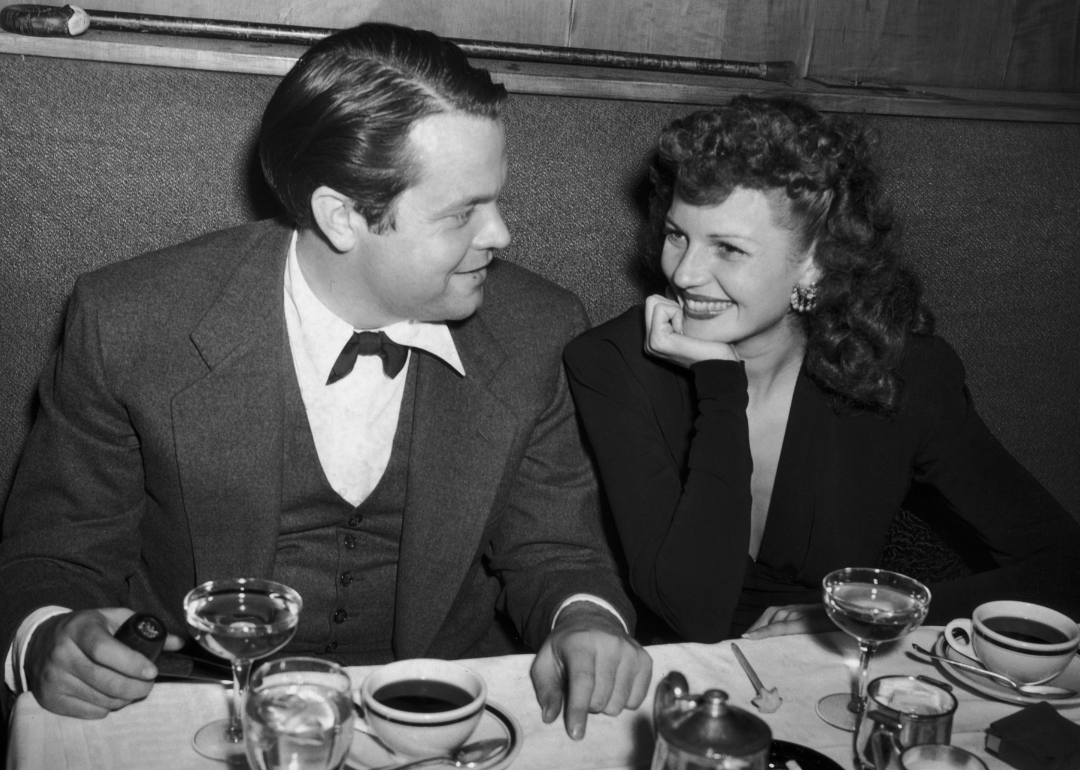 Archive Photos // Getty Images
"Citizen Kane" director Orson Welles saw Hayworth's photo in Life magazine and began writing to her in the early 1940s, a strategy that won her over.
While shooting the Gershwin and Kern musical "Cover Girl" in 1943, she reportedly shouted on set, "I'm going to marry Orson Welles!" and followed through during a lunch break, returning to film soon thereafter. The Associated Press called the marriage "surprising" amid reports that Hayworth was engaged to Victor Mature.
1944: Becoming a mom and a bonafide star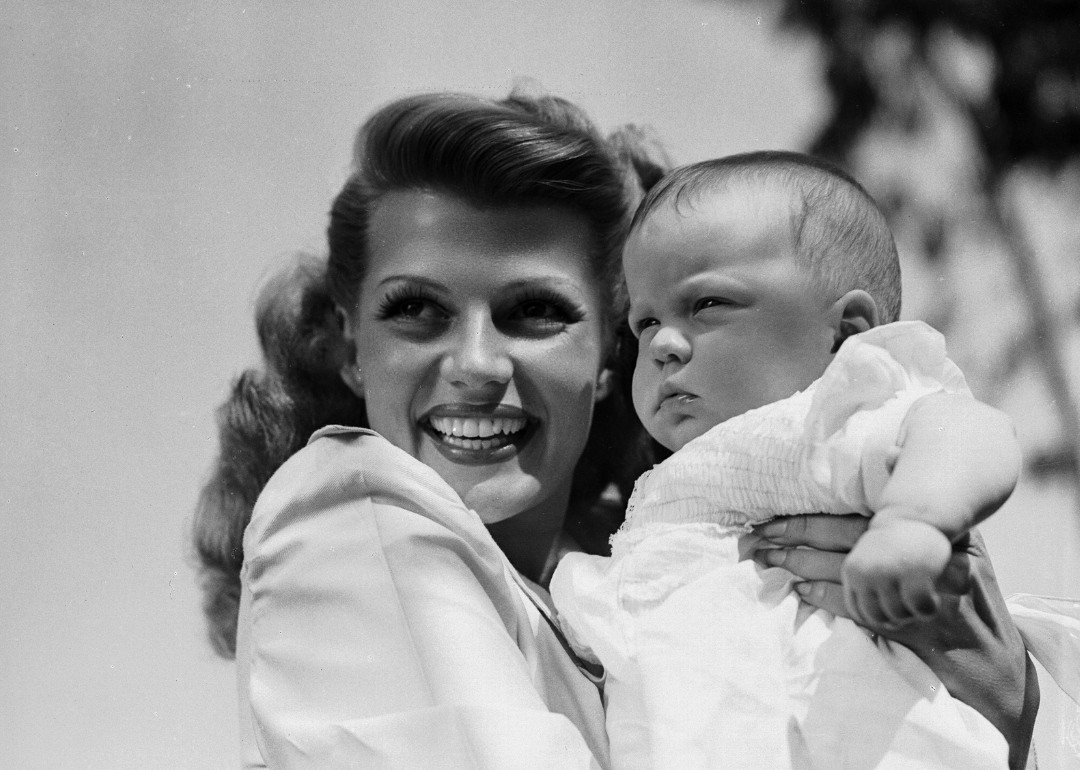 Robert Coburn Sr./John Kobal Foundation // Getty Images
1944's "Cover Girl" firmly established Hayworth as Columbia Pictures' bonafide star. Her performance opposite Gene Kelly made her one of the top box-office earners in the world. Years later, in 1970, Hayworth told The New York Times, "I guess the only jewels of my life were the pictures I made with Fred Astaire … And 'Cover Girl,' too."
Hayworth and Orson Welles also welcomed their first child together, daughter Rebecca, in December 1944. (Welles previously had a daughter with Virginia Nicolson.) He reportedly wanted 17 kids, while Hayworth hoped for three or four.
1945: Another marriage turns sour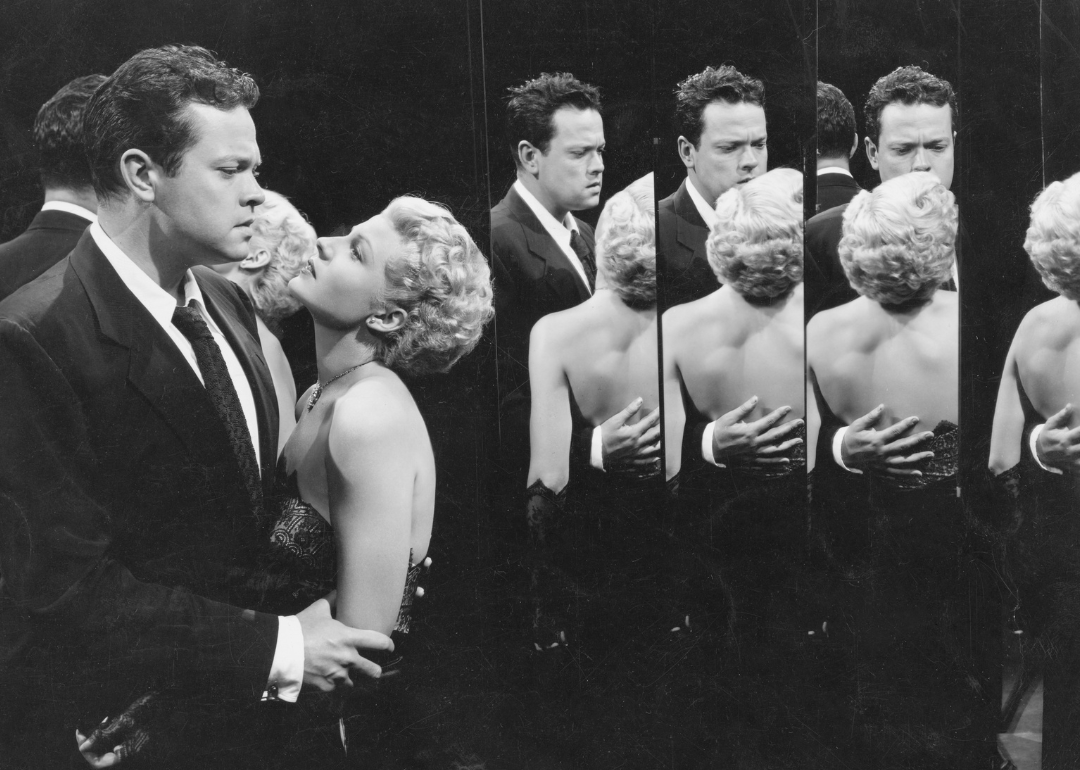 George Rinhart/Corbis via Getty Images
Vanity Fair described Orson Welles as a husband-mentor figure to Hayworth and a controlling partner who tried to take her films to more intellectual heights. While Welles sought to transform Hayworth again, she longed for quiet home life. "During the entire period of our marriage, he showed no interest in establishing a home. When I suggested purchasing a home, he told me he didn't want the responsibility," she testified after filing for divorce.
Meanwhile, Welles began an affair with Judy Garland, and Hayworth began what would become a 40-year, on-again, off-again relationship with actor Glenn Ford while filming "Gilda" in 1945. Two years later, she was finally granted her divorce from Welles in 1947.
1946: A literal bombshell
George Rinhart/Corbis via Getty Images
"Gilda" took Hayworth's status from Hollywood star to sex symbol, thanks to a scene in which she coyly peels off her long black satin gloves and sings a slightly suggestive song, "Put the Blame on Mame." "Every man I've known has fallen in love with Gilda and awakened with me," she famously said.
In 1946, Hayworth became enraged when she learned an image of her from Esquire magazine was taped onto an atomic bomb scheduled to detonate. "Rita used to fly into terrible rages all the time, but the angriest was when she found out that they'd put her on the atom bomb," Orson Welles told biographer Barbara Leaming, according to The Telegraph. "Rita almost went insane; she was so angry." Welles said Hayworth wanted to hold a press conference to denounce the move, but Columbia Pictures executive Cohn wouldn't allow her, deeming the action "unpatriotic."
1948: Meeting her Prince Charming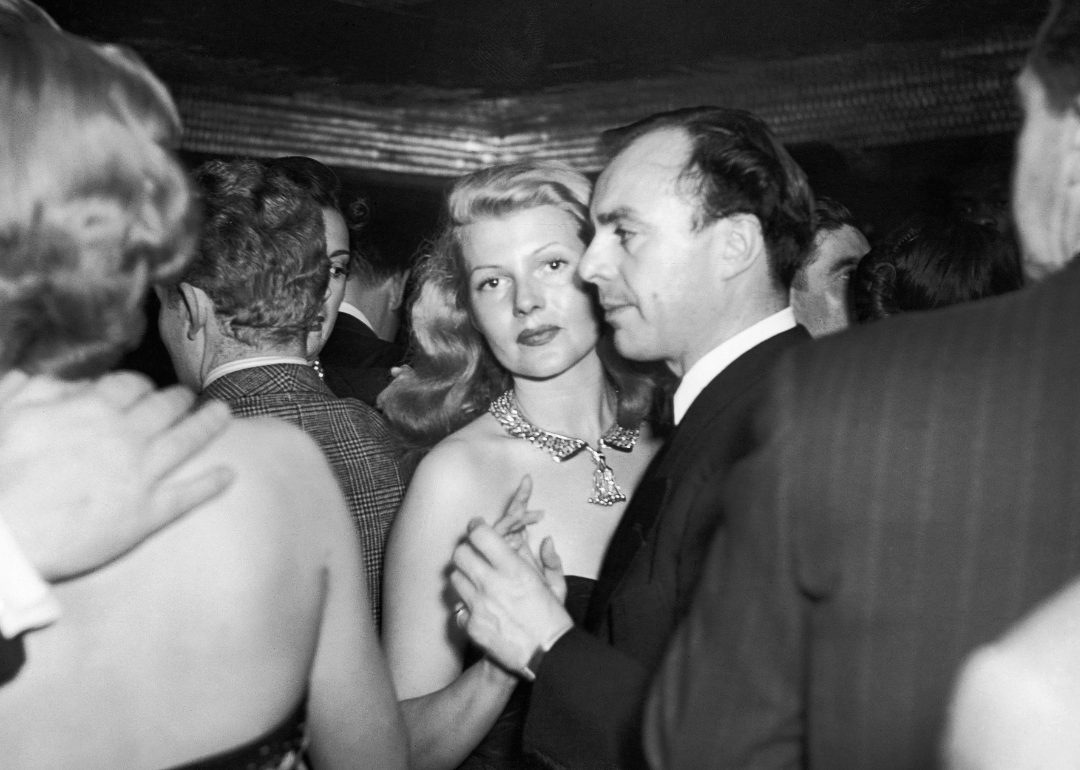 Serge DE SAZO/Gamma-Rapho via Getty Images
In 1948, tensions rose between Harry Cohn and Hayworth while filming "The Loves of Carmen." According to biographer Barbara Leaming, Hayworth's dressing room was bugged by a revengeful Cohn. And after filming wrapped, she reportedly traveled to France with Glenn Ford to terminate a pregnancy, according to Ford's son, who said he read the detail in his father's diaries.
The same year, on a trip to Cannes, she was romanced and won over by Pakistani diplomat Prince Aly Khan, a notorious playboy. He was the son of Aga Khan, the Imam for the Ismaili sect of Islam, and was still married then.
1949: Tying the knot and becoming a mom again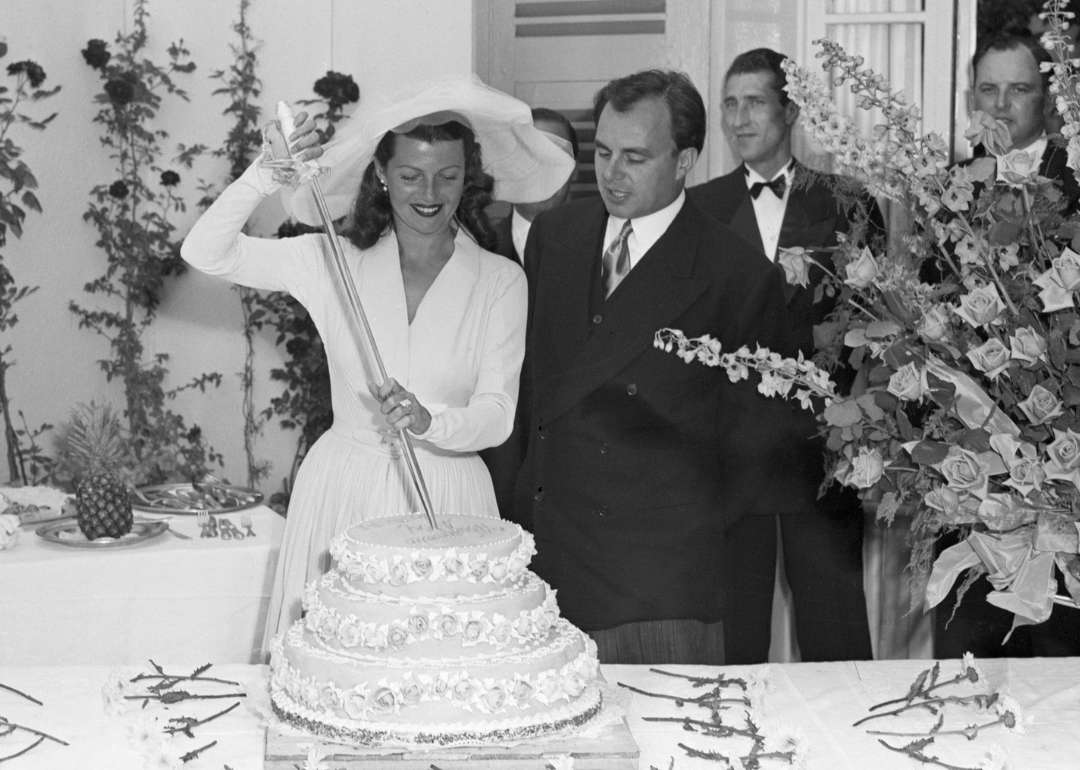 Bettmann // Getty Images
By 1949, Hayworth was one of Hollywood's highest-paid actors, but she decided to leave it all behind for her new prince. Prince Aly Khan showered Hayworth with lavish gifts, even employing a fortune teller who told her she was about "to embark on the greatest romance of her life."
Hayworth—who, it turns out, was also pregnant at the time—accepted his marriage proposal. With Khan now also divorced, he and Hayworth married in Cannes in May 1949 in front of hundreds of guests who drank 600 bottles of champagne and ate 50 pounds of caviar.
Their daughter, Yasmin Aga Khan, was born in December 1949.
1950: Not a fairytale marriage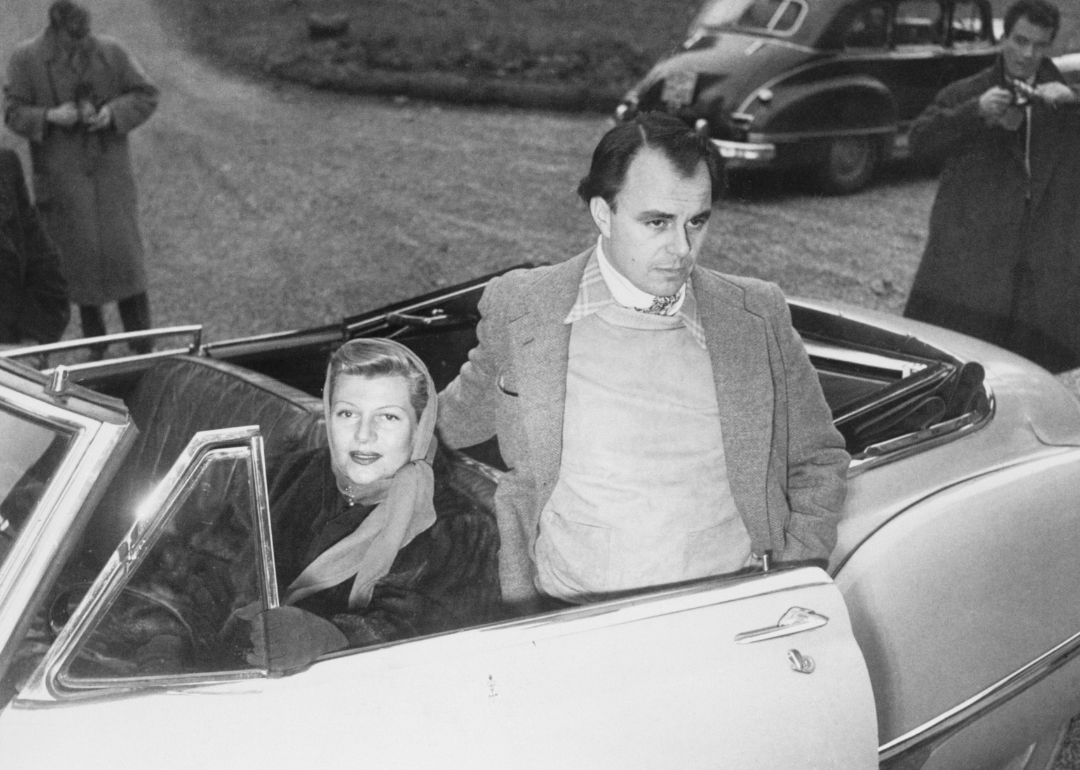 Bettmann // Getty Images
Being a princess came with its responsibilities. In 1950, Prince Aly Khan's father ordered the couple to tour Ismaili communities in Africa for three months. Their cultural voyage was documented in "Champagne Safari," which mentioned that Hayworth and the prince parted ways on the trip due to their different viewpoints on the world. (Vanity Fair reported that they "quarreled violently," with the prince making time for other women during their excursion.)
Afterward, Hayworth returned to the States and started planning her divorce.
1951: The battle over her daughter's religion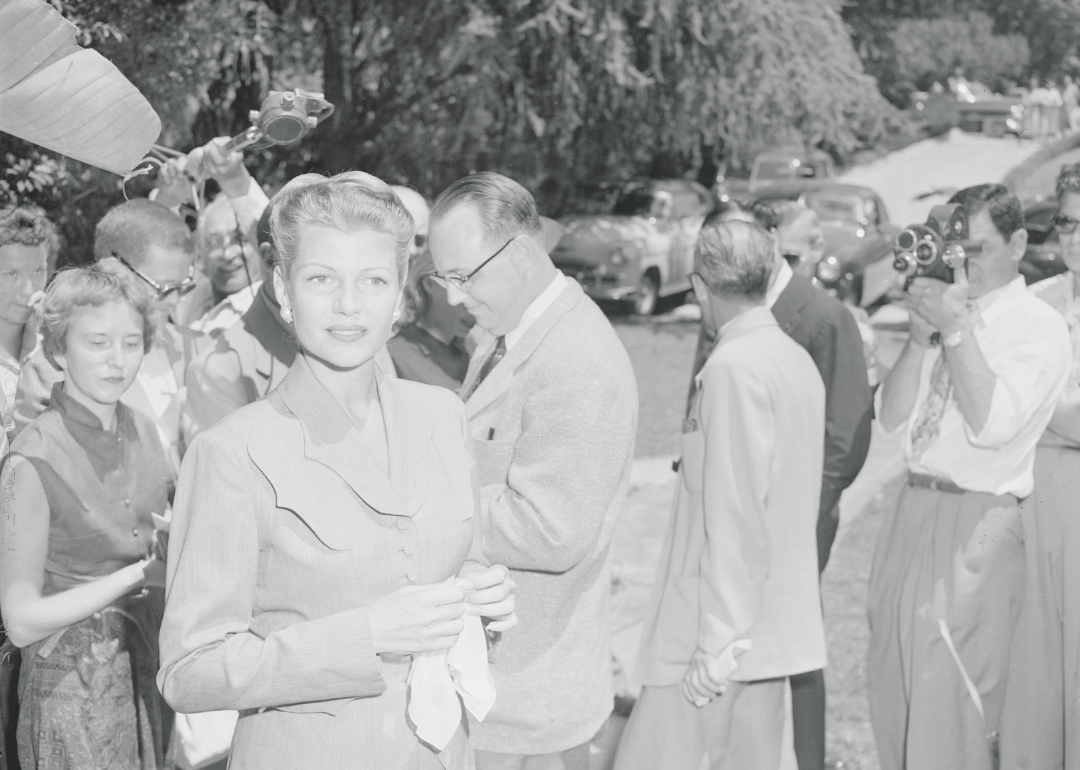 Bettmann // Getty Images
Hayworth moved to Reno, Nevada, to establish legal residence to qualify for a divorce, citing "extreme cruelty, entirely mental in nature" in her divorce papers. An intense custody battle ensued, specifically over whether their daughter, Yasmin, should be raised Christian or Muslim. Prince Aly Khan offered Hayworth $3 million to raise his daughter Muslim, which she rejected.
The divorce was eventually finalized in 1953.
1952: A return to the screen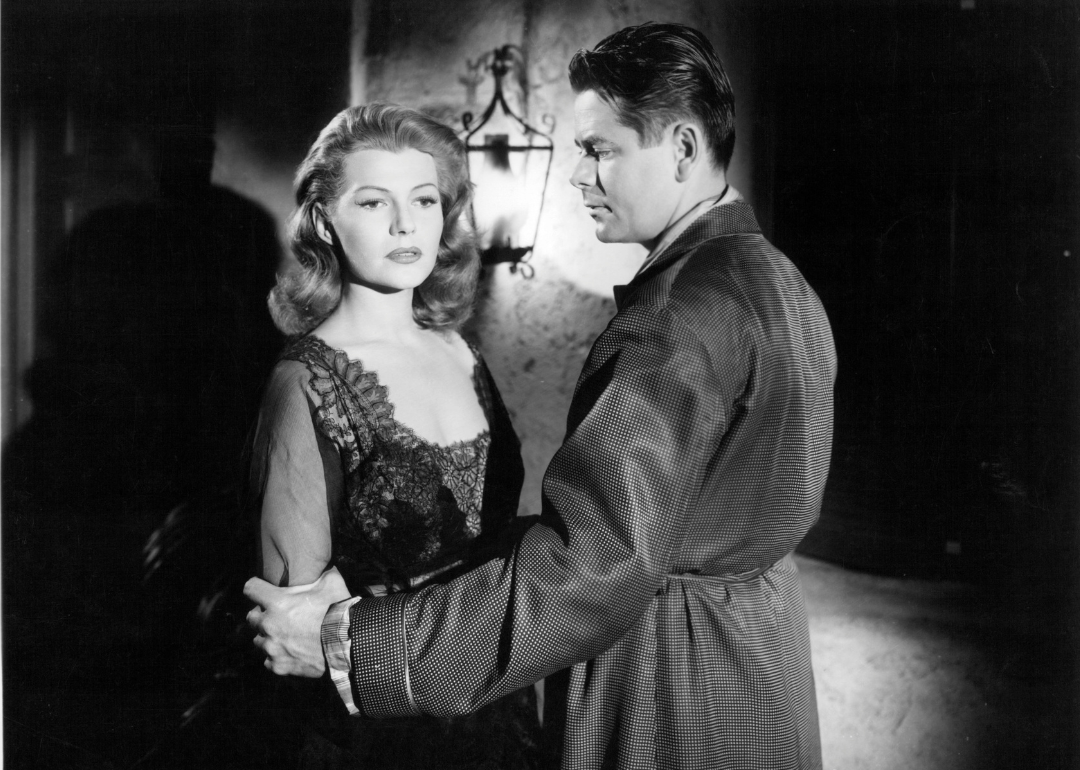 Columbia Pictures // Getty Images
Following her divorce, Hayworth returned to Hollywood for her comeback film, 1952's "Affair in Trinidad," directed by Vincent Sherman, which saw her team with Glenn Ford again. Sherman recalled that Hayworth seemed frightened to return to the big screen, but her efforts paid off: The film quickly jumped to the top spot at the box office.
1953: Losing her daughters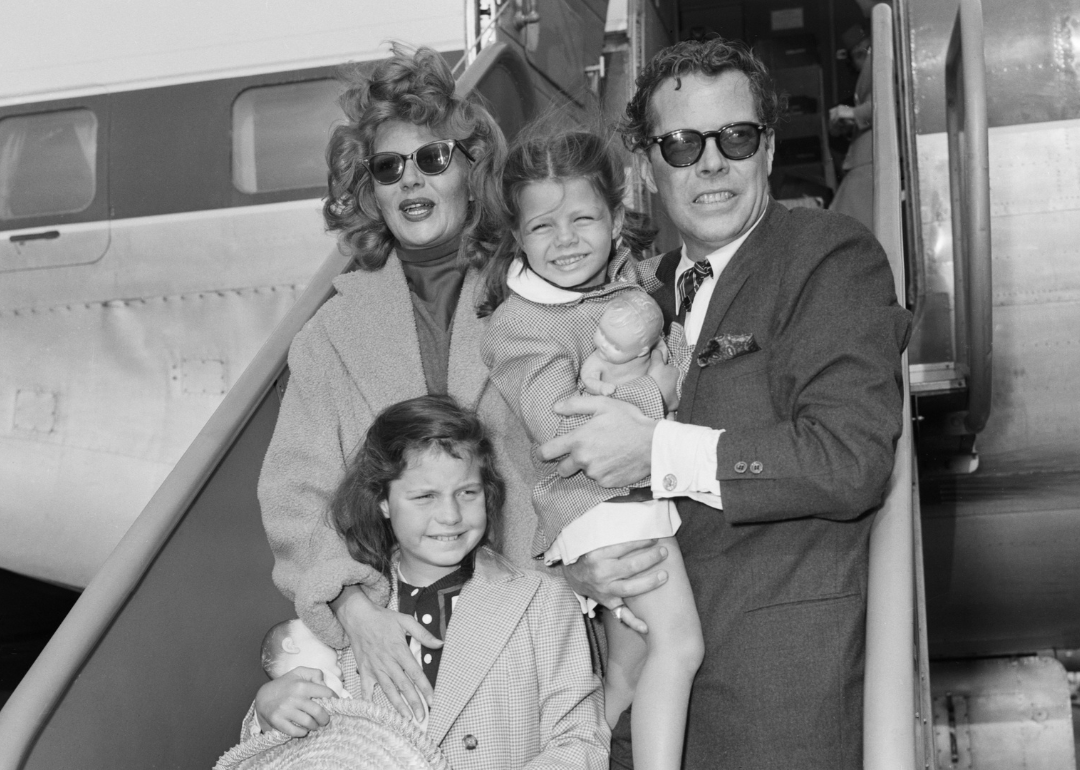 Bettmann // Getty Images
Hayworth was back to work, releasing two more films in 1953, "Salome" and "Miss Sadie Thompson," but the year was also marked more trouble for Hayworth.
With her divorce from Prince Aly Khan official, she embarked on another marriage, this time to Argentinian singer Dick Haymes, whom she wed at a Las Vegas casino. Haymes was struggling: He was facing deportation, and two of his former wives were suing him for unpaid child support. Not to mention he was still married to actor and socialite Nora Eddington.
Hayworth's situation was similarly bleak. She reported getting death threats during her fierce custody battle with Khan, prompting her to send her daughters to live with their nanny in a home later exposed by the media to be in poor condition. The situation caused her to place them in protective custody.
1957: The end of Columbia contracts for good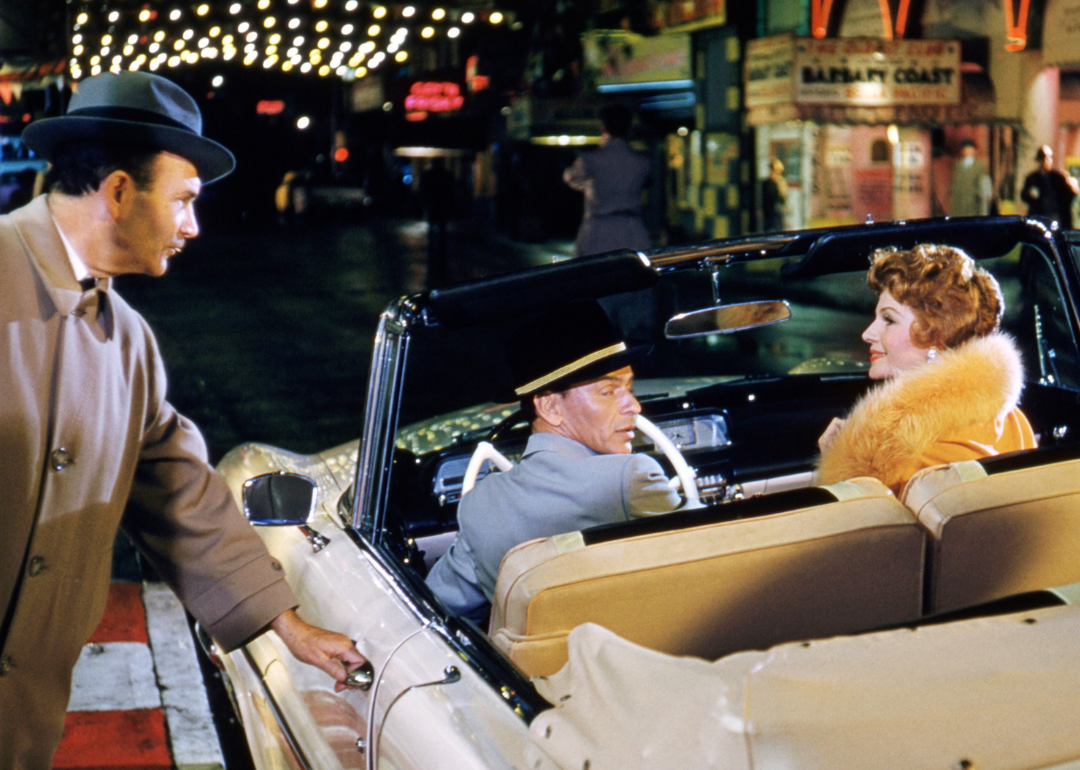 Silver Screen Collection // Getty Images
Hayworth dissolved the production company she had started a decade earlier, Beckworth Corporation, to offset Dick Haymes' financial woes in 1954.
Soon after, he struck her in the face at a Los Angeles nightclub. The two divorced in 1955. That same year, Hayworth sued Columbia Pictures, demanding release from her contract and a $150,000 salary for the never-made "Joseph and his Brethren."
In 1957, Hayworth appeared in her last picture with Columbia, "Pal Joey," with Frank Sinatra and Kim Novak. It was the end of a fraught, 20-year relationship.
1964: Her first and only big award nomination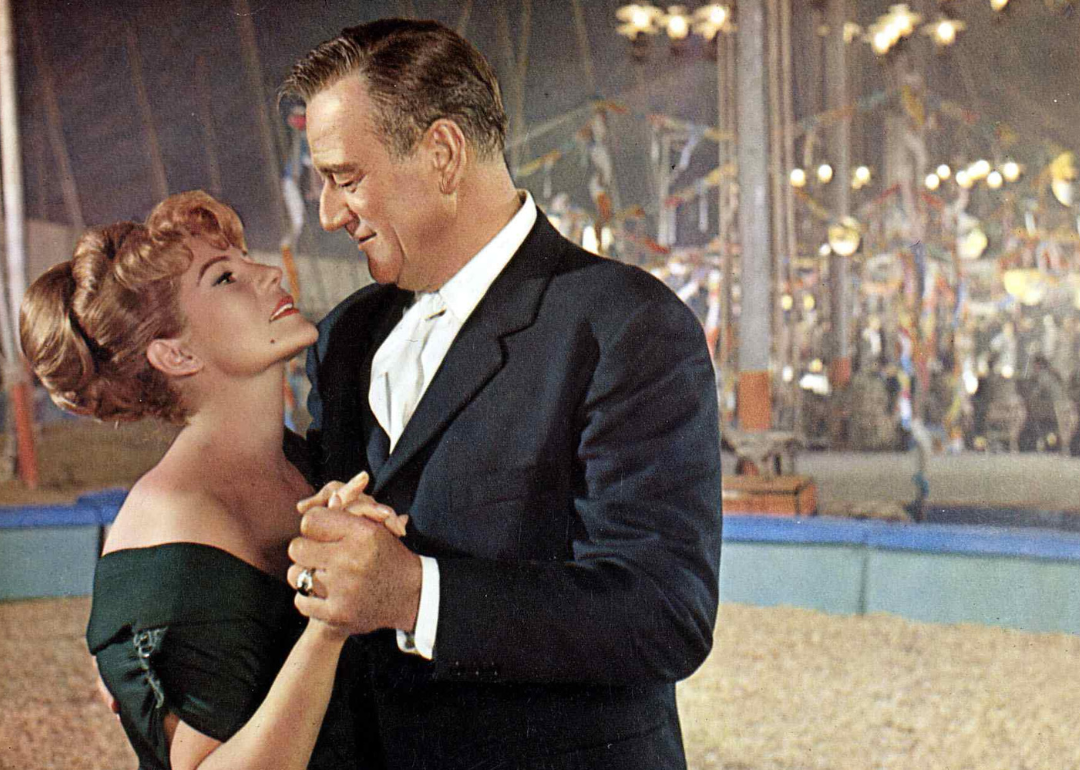 FilmPublicityArchive // United Archives via Getty Images
Hayworth appeared in five movies between 1957 and 1959 and was more active than she had been in the industry for years.
Her performance in the 1959 movie "The Story on Page One" was exceptionally well-received. A few years later, in 1964, she earned her first Golden Globe nomination for the drama Western "Circus World." It was the only major U.S. film award Hayworth was up for in her 40 years in the industry.
Hayworth's appearance in 1964's "The Money Trap" marked her last with Glenn Ford. Unfortunately, signs of stress started to show around this time: Hayworth couldn't appear as expected in the Broadway production of "Step on a Crack" in 1962 due to unknown health reasons.
1971: Forgotten lines and public distress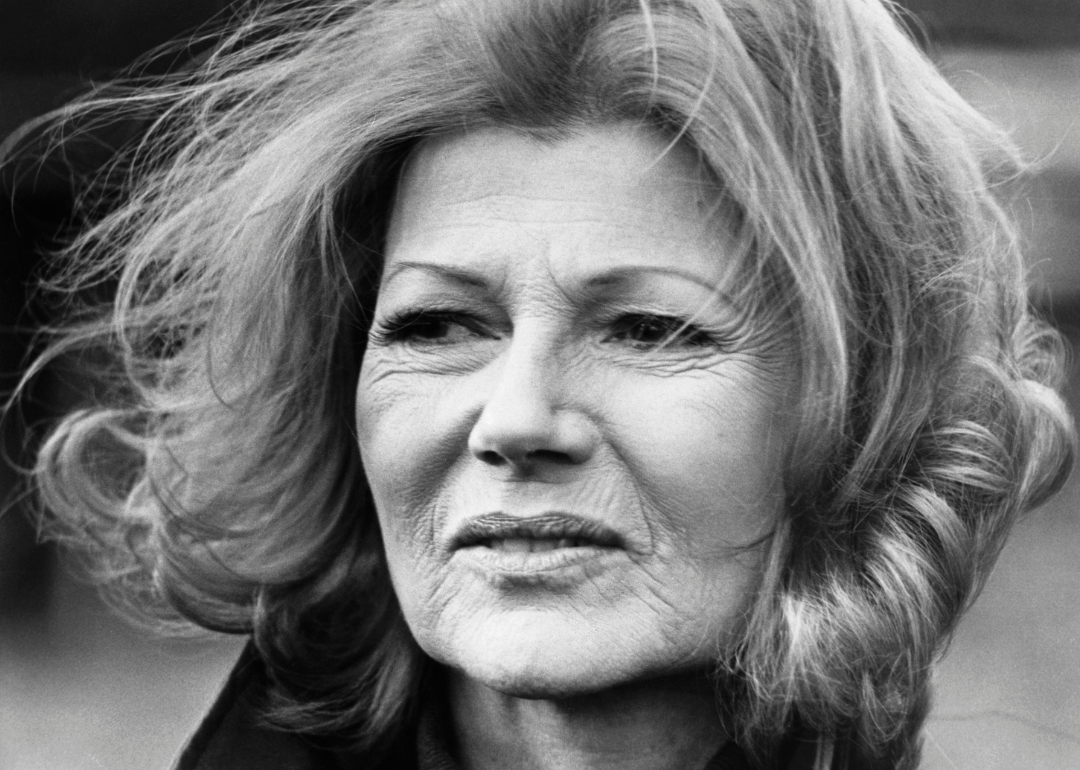 Hulton-Deutsch Collection/Corbis via Getty Images
In the early 1970s, Hayworth continued acting in films and made TV appearances on "Rowan & Martin's Laugh-In." However, she was beginning to forget her lines—first when she was cast in the Broadway production of "Applause" in 1971 and then while filming the 1972 Western "The Wrath of God," where each line had to be fed to her on set. (This would be her final film.)
In 1974, within one week of another, both of her younger brothers died of cancer, and Hayworth allegedly turned to alcohol. In 1976, Hayworth made headlines at London's Heathrow Airport for being escorted off a plane after an angry outburst.
1981: The face of Alzheimer's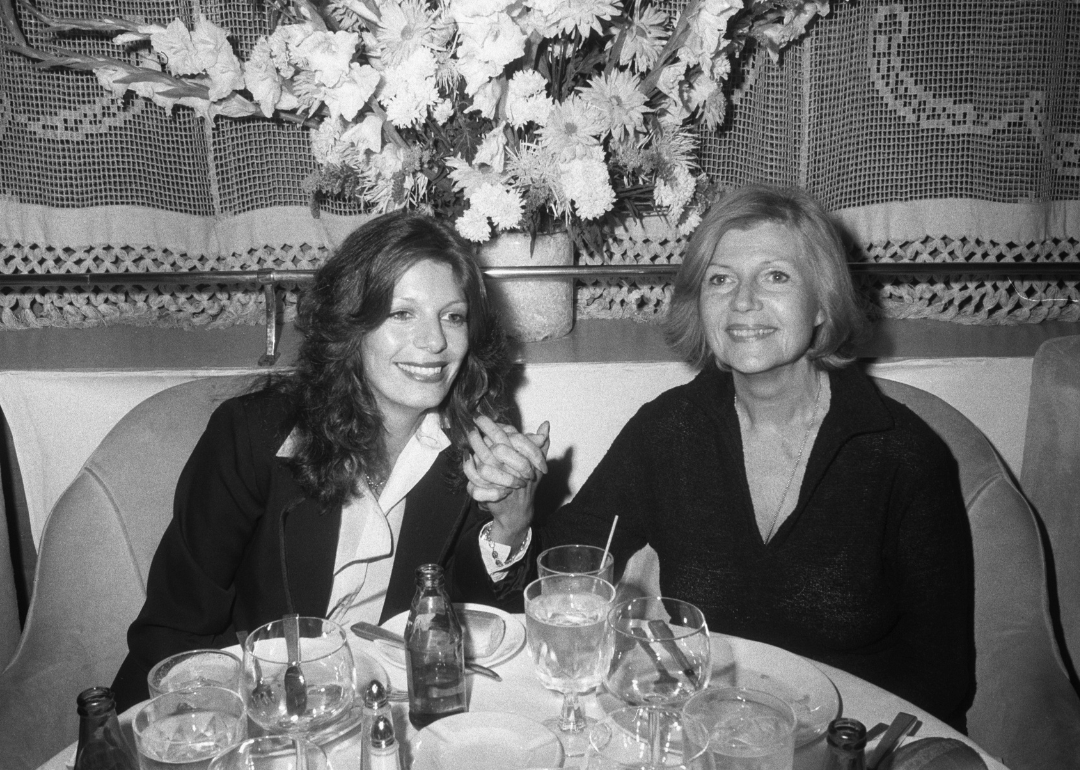 Bettmann // Getty Images
In 1980, Orson Welles saw Hayworth at an event and said she did not recognize him after minutes of talking. The following year, she was finally diagnosed with Alzheimer's disease.
When she was just 62 years old, her condition could no longer be kept secret. A Los Angeles court decided Hayworth could not care for herself and appointed her daughter, Yasmin Aga Khan, as her caretaker.
Hayworth was the first public face of Alzheimer's disease, and Yasmin became an advocate for research, appearing in front of a congressional committee in 1983. Yasmin went on to help establish and become an honorary president of Alzheimer's Disease International.
Hayworth died on May 14, 1987, at age 68, in Yasmin's New York City apartment, three months after falling into a mild comatose state. President Ronald Reagan—who would later reveal that he also had Alzheimer's—praised Hayworth and Yasmin for their bravery and efforts to raise awareness of the condition.
Story editing by Jaimie Etkin. Copy editing by Paris Close.