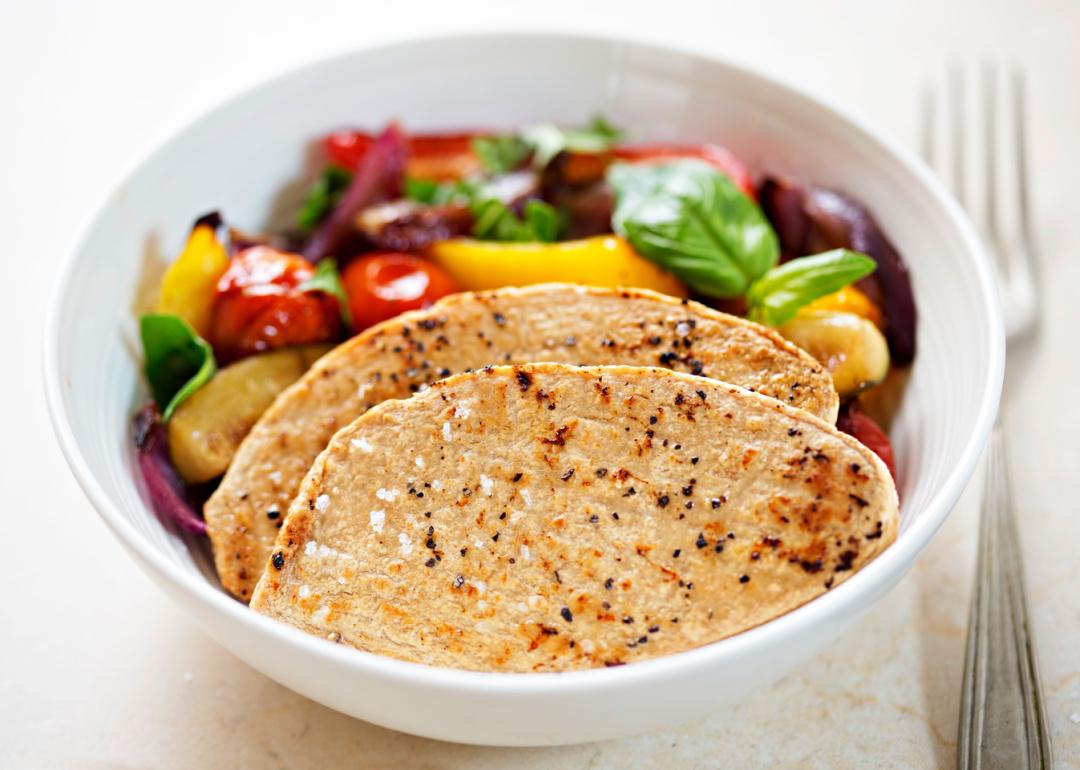 Bartosz Luczak // Shutterstock
Fermentation, one of the oldest food processing methods, is getting an upgrade. And consumers seeking more variety in meatless alternatives to traditionally animal-based protein stand to benefit.
Traditional fermentation, the process used for millennia to make beer, cheeses, bread, and more, involves breaking down substances with bacteria, yeast, or microorganisms. Biomass fermentation scales up and quickens this process. 
Food scientists can efficiently make larger volumes of high-protein food using microorganisms that can grow rapidly and are high in protein. This often takes the form of meatless substitutes for popular meat products like sausages, bacon, and chicken.
Other methods for producing meatless proteins, such as extrusion—which extracts proteins from plants and synthesizes them into facsimiles of traditional meat—can take days and even months. In contrast, biomass fermentation takes just a few hours. Biomass fermentation uses significantly fewer resources, such as water and energy, than other methods of producing protein analogs, to say nothing of traditional animal agriculture, an industry responsible for twice the global greenhouse gas emissions of the plant-based sector.
The innovation is spreading to food industries around the globe. In 2022, countries including Finland and Singapore specifically advocated for developing biomass fermentation facilities to safeguard against vulnerabilities in their food systems. Meanwhile, the United States funded a contract with biomass fermentation company Nature's Fynd to determine whether it is possible to produce edible protein in zero gravity, launching a bioreactor on a SpaceX mission.
The same year, the Biden administration issued an Executive Order on Advancing Biotechnology and Biomanufacturing Innovation for a Sustainable, Safe, and Secure American Bioeconomy. This encouraged lawmakers to approve $5.5 million for alternative protein research, including fermentation techniques.
Thistle looked at the biomass fermentation industry— using data from the Good Food Institute— and what it means for alternatives to animal agriculture.
More companies investing in biomass fermentation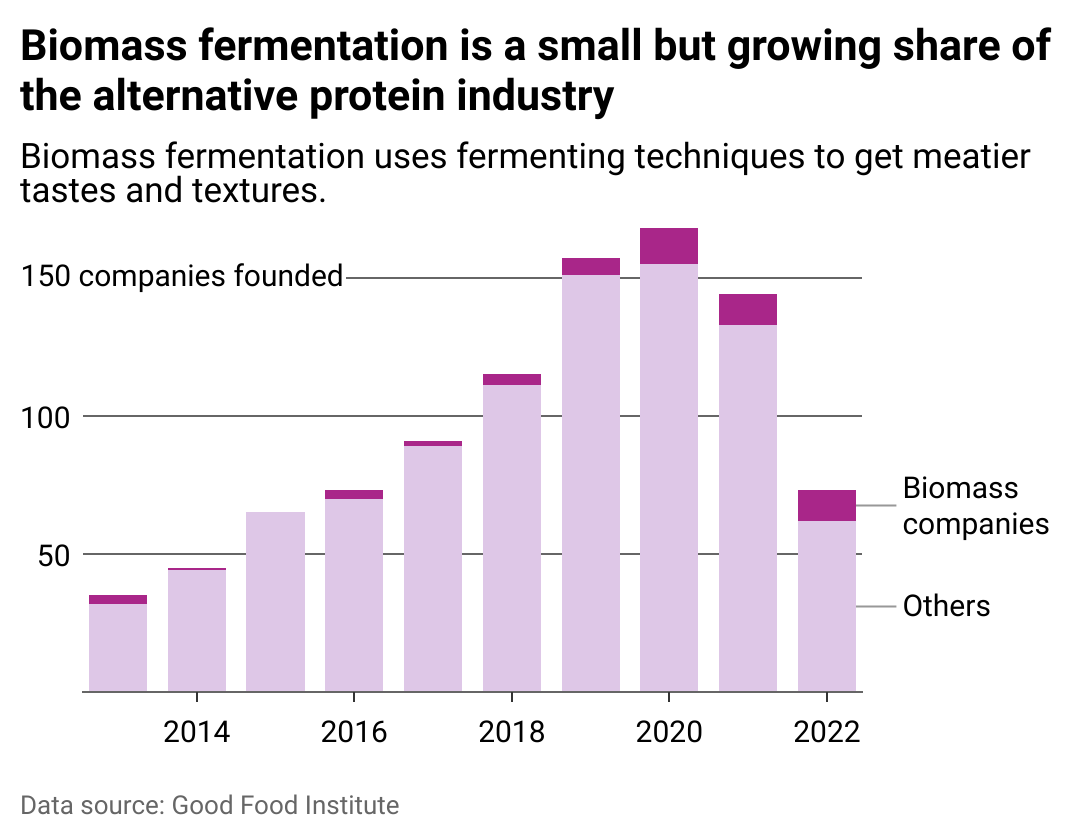 Thistle
According to the Good Food Institute's "State of the Industry Report: Fermentation," unique investors in the fermentation industry grew by 38% in 2022. Part of this growth may be attributable to broader societal and agency-level acceptance of the process.
GFI also polled investors to gauge their appetite for the alternative protein industry, and most respondents indicated they expected to increase investments in less traditional protein categories, including fermentation. Of 1,456 active alternative protein companies, 46 focused on biomass fermentation as of 2023.
In a promising trend for biomass fermentation investors, over half of these were founded in 2020 or later. Currently, companies pioneering the industry include Quorn, whose flagship mycoprotein emerged decades ago; Mycorena, a Swedish biomass fermentation meat and fish company; and Nature's Fynd, a Chicago-based company that produces plant-based meats and cheeses.
Story editing by Brian Budzynski. Copy editing by Kristen Wegrzyn.
This story originally appeared on Thistle and was produced and distributed in partnership with Stacker Studio.