(NewsUSA)

- It's been said that Ed Davis has done for American railroads what Jack Kerouac did for American highways and John Steinbeck did for American nomads. Lofty comparisons indeed.
And it's amazing this can all happen while writing a book about hobos, what Davis calls a "brotherhood of travelers who emerged with the coming of the great iron roads and who held dominion over them for more than a century."
Yet maybe it is precisely the scrutiny given this band of tramps, capturing the filth, hunger, exhaust, grit, ingenuity and slice of America they embody that makes The Last Professional so powerful.
It's the story of a hobo, a wanderer and a madman -- three characters hurtling toward a heart-wrenching climax where their way of life, and their lives, hang in the balance.

Lynden Hoover, a young man on the brink of a new beginning, cannot embrace it without confronting the traumas of his past. Help comes from The Duke, an old loner who calls America's landscape his home. He clings to an honor code, but in fleeing from Short Arm, his merciless enemy, his code is being tested. The Duke mentors Lynden, enlisting old traveling friends to keep himself and his apprentice just ahead of Short Arm's relentless pursuit.

Bonds are formed, secrets exposed, sacrifices made, and trusts betrayed -- all against a breathtaking American landscape of promise and peril. It's three unforgettable characters, hurtling toward a spellbinding climax where pasts and futures collide, and lives hang in the balance.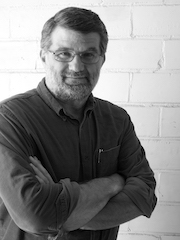 But the essence of The Last Professional is much greater than its intriguing plot. The rambling trains are a metaphor for an American journey, a frenetic yet serene search for identity. Is it a train to freedom or a train to survival?
The book continues to receive lofty praise:

"It reads like an amalgam of adventure and drama, with a touch of Cormac McCarthy-esque neo-noir," says Colin Jordan of Medium.
"Part Peckinpah, part Stephen King's Stand by Me, and part something else entirely -- The Last Professional feels honestly like escapism done right," says Daily Pop News. "The kind that completely envelopes you, with dream-like seduction, in a fully realized and fleshed out environment."
The book has won the American Fiction Award, New Mexico, Arizona Fiction Award, and NYC Big Book Audio Fiction Award.
It's not so much what Ed Davis has done for American railroads in The Last Professional. It's what he has done for human awareness, for our conscience, for our understanding of the many paths we take, some by choice and some perhaps outlined in a higher preconceived scheme. Whatever picture your personal perspective presents, view life through a wider lens and marvel in the majesty before you, whatever outward stereotypes lead you to believe.
"There's no secret to it. We're all of us on a train. It doesn't run smooth, it doesn't run easy, and it don't run one minute longer than it's meant to. You gonna ride it, or let it ride you? That's the only choice we really get."
Visit www.eddavisbooks.com.